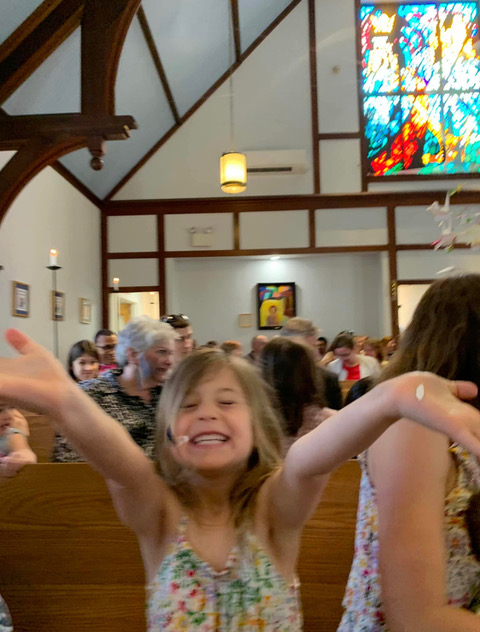 Jesus said, "Let the little children come to me, and do not hinder them, for the kingdom of heaven belongs to such as these."

– Gospel of Matthew 19:14
Saint Miriam FFF (Family Faith Formation)
The foundation of our parish's faith formation will now be structured around the FAMILY…enabling the parents to be the primary (and best!) teacher of their child's Catholic faith.
"Every Christian family is called to be a small 'Domestic Church' that must shine with the Gospel virtues."

– Saint Pope John Paul II
The FFF process at Saint Miriam Parish has at its core the tenets and traditions of our shared Catholic Faith tradition. A faith tradition rooted in a rich Catholic heritage that acts as our springboard into the realms of spiritual and personal growth in our inclusive and welcoming catholic community.
Our FFF Catechists, FFF Aides, and FFF Support Staff – all who touch and participate in the FFF process – provide by their lived faith experience the tools our students will take with them on their own journey of faith.
We share with our Benedictine brothers and sisters in the mantra: … pray often and everywhere…
KidsCare
At our later Mass in the fall through the springtime, and for some special events, we offer child care called KidsCare in our Raymond Leight Room. All of our attendants and caregivers are state and federally cleared staff to provide a safe environment. Please see any host or greeter to gain assistance and directions.
KidsLife Staff
Brother Sean R. Hall, LSW, Director of Religious Education
Sean R. Hall is a licensed social worker and has had extensive experience working with children in all forms of crisis. He serves as a teacher with our KidsLife Programs and on the Board of Saint Miriam Academy… >>Read More
---
Mrs. Pat Wilcke, MFT, Coordinator, KidsSafe
Mrs. Pat Wilcke, MFT, is the coordinator of the KidsSafe Program at Saint Miriam. At Saint Miriam, we take the safety of our children seriously and our comprehensive program is built on several key concepts relating to KidsSafe in Church and/or Parish life… >>Read More