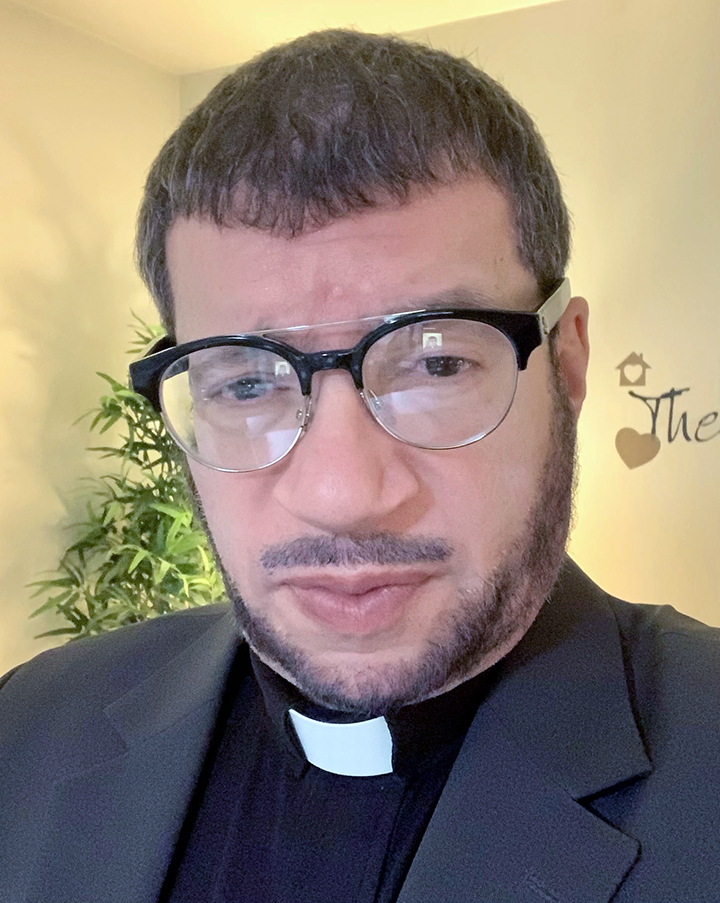 Father Jerry Pinero joins Saint Miriam as an Assisting Priest. Father is a professed monk with the Ecumenical Order of Charity taking on Brother Jeremiah as his name in religion. Rather than living behind the walls of a monastery, this Order of monks take on active lives that are integrated with their spirituality. They are neighbors and friends immersed in their communities. They have families and careers while striving to positively impact the world that surrounds them.
Father is a proud Puerto Rican, born in Brooklyn, NY, raised in Philadelphia, PA and currently resides in the Art Museum area of the city. Father is a proud graduate of Roman Catholic High School and received both a BA and Masters of Divinity Degree from St. Charles Borromeo Seminary in Wynnewood, PA. Father Jerry was ordained a Roman Catholic Priest on May 18, 1991, and incardinated into the Catholic Apostolic Church of Antioch (an Old Catholic Church based in Phoenix, AZ) on May 18, 2019. Father became a novice with the Ecumenical Order of Charity in June 2018 and will profess final vows with this community in July 2023.
Father Jerry credits his life of faith and service to the example he witnessed in his loving parents, Pedro Sr. and Lydia Pinero who were dedicated, devout and faithful ministers of God in their own right. Father Jerry's parents are now enjoying the God-kind-of-life on the other side where they now continue to watch over and intercede for him. Their legacy of faith, hard work, simplicity, humility, perseverance, prayerfulness and loving service of neighbor continue to inspire Father in his daily walk of faith.
Father Jerry presently works in the healthcare industry as a Patient Advocate at Temple University Hospital in Philadelphia, PA and enjoys serving God's people wherever and at whatever capacity the Spirit might lead him, including strumming chords on his guitar at liturgical celebrations.
Father Jerry is known to be a kind, warm and giving soul, a Philly sports fan and an avid foodie who thoroughly enjoys cooking for, and sharing fellowship with, friends and loved ones. Cultivating a healthy spirituality and a genuine connection with the All Holy One are extremely important to Father. This includes the work of promoting the practice of intentional GRATITUDE, KINDNESS and MINDFULNESS, a practice that has profoundly changed his life.
Father Jerry is the founder of a non-profit organization called Bethlehem House Ministries, (www.bethlehemhouseministries.org), a 501(c)3 entity dedicated to the cause of this GRATITUDE, KINDNESS and MINDFULNESS movement ~ with a special emphasis on providing for the basic needs of several young people in Africa that the ministry has established meaningful bonds with, and has taken them under his wing over the past several years.
Bethlehem House Ministries is committed to the work of breaking the bread of food, friendship, faith and love, celebrating companionship, embracing gratitude and kindness while sharing the love and mercy of God with everyone!
Father Jerry thoroughly enjoys his identity as a monk in the world, loves ministering to all brothers and sisters in his midst, especially the poor and needy, and looks forward to serving the good people of God at Saint Miriam Parish Community as an Assisting Priest.