"And now, our God, we give thanks to you and praise your glorious name."
– 1 Chronicles 29:13
For Feasts, Solemnities and Holidays, Please Visit our Parish Calendar
For information about weddings, please visit our Weddings page by clicking here or click here to contact Father Jim.
For information about our Children's Faith Formation and KidsLife program and weekly KidsLife Schedules click here.
Please visit our Parish Life Section for more information and weekly schedules and Small Groups and Fellowship opportunities
An Overview of Masses and Devotions Offered at Saint Miriam:
In an effort to bring the community back together again for fellowship after a pandemic, and to increase participation in the life of the Church and the beauty of devotion, Saint Miriam designed a way to bring opportunities together every Sunday!
Services and Times
In-Person Worship Schedule:
Every Sunday:
7:30am Early Mass
8:30am Rosary in the Sanctuary
9:30am Family Mass
11:00am Morning Mass (Including Second Sundays; Healing and Third Sundays, Baptisms)
Every Second Sunday:
11:00am Healing Morning Mass
Every Third Sunday:
11:00am Morning Mass with Baptism (Livestreamed)
Every Fourth Sunday:
11:00am Family Faith Formation (Childcare will be provided for other children. Please reserve in advance.)
Weekday Masses are offered:
Thursdays: Adoration from 4:00pm to 6:00pm
First Fridays only at 9:30am
Livestream:
Sundays:
Rosary at 8:30am
Masses rotate weekly to include 7:30am, 9:30am, and 11:00am
Baptism Mass at 11:00, every third Sunday
Thursdays:
Adoration from 4:00pm – 6:00pm
Veneration of St. Francis of Assisi Relic from 6:00pm – 7:00pm
Join us every 1st Friday of the month at 9:30am (Sept through May) for First Friday Mass for the children and families of our school! The public and parishioners are welcome!
*We will limit our Baptism to a maximum of three candidates monthly
**Pre-Jordan will still occur every First Sunday with Reservation
---
Prelude and Silence:
Sundays in our Main Sanctuary we begin beautifully inspiring prelude music 15 minutes before the start of Mass and then begin a 5 minute period of intentional silence to prepare us to celebrate the Holy Eucharist together. Every Sunday for both the 9:30am and 11:00am Masses.
Rosary:
Sundays at 8:30am in our Main Sanctuary.
Reconciliation
30 min before each Mass or by Appointment; please contact one of our priests by contacting us here.
---
Come and Pray to St. Francis of Assisi!
Saint Miriam, a Franciscan Old Catholic Parish, has been gifted a First-Class Relic of our Seraphic Father, St. Francis of Assisi! The word relic comes from the Latin reliquirae, meaning, "remains."
Traditionally, relics, honored in the Catholic Church, are the bodies of the saints or objects connected with them. God as often shown His approval of relics as sacramentals by working miracles through them. Relics deserve to be venerated and honored as the bodies of the saints were temples of the Holy Spirit and instruments through which God worked. We honor relics by preserving them with reverence, visiting the places where they are enshrined, and praying before them.
We have installed a beautiful wooden Ambo, containing the ornate, gold reliquary of the relic within our Sanctuary and will begin to permit veneration every Sunday from 12:30-1:30pm, and every Thursday, immediately following Adoration of the Blessed Sacrament from 6:00pm to 7:00pm. There will also be Masses and Special Devotional days where the reliquary will be brought out for the public to touch and venerate.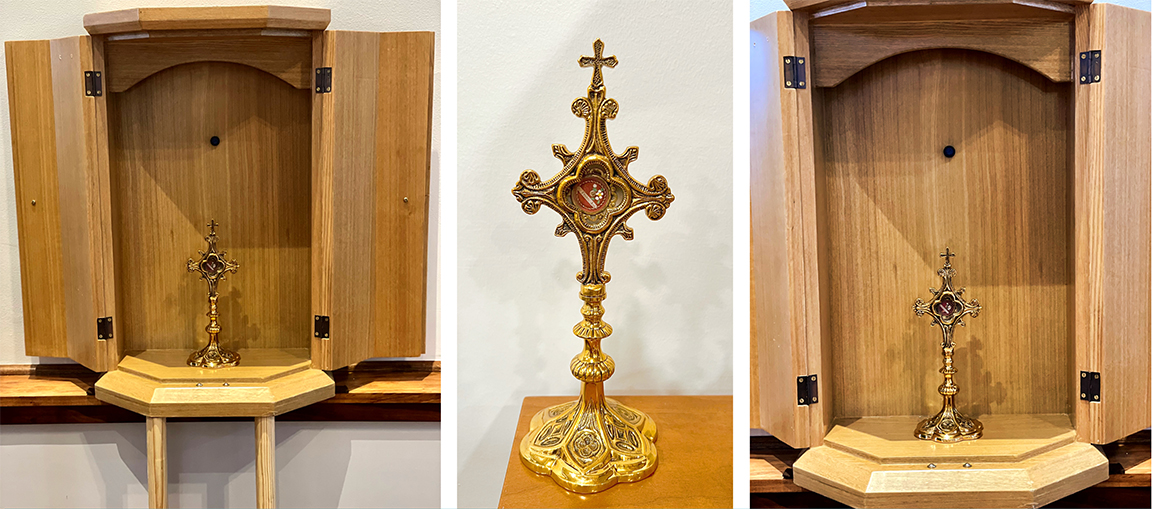 ---
Bible Study & Small Groups
Please visit our Small Groups Listings
Parking & Accessibility:
We have a large parking lot on our property to accommodate all visitors and parishioners. Handicapped spaces are prominently marked and both entrances are accessible.
A Note to our Friends with Disabilities:
Access Within Our Parish Building: Our Sanctuary, Saint Miriam Café, Spiritual Lending Library, Restroom Facilities, CFF Classrooms, and all other public and garden spaces within the parish grounds are ADA Accessible to all those with physical limitations and wheelchairs. The only inaccessible area is the Undercroft area. Otherwise, there are no steps or stairs to limit movement. We will be happy to assist you with special requests, or to greet you upon arrival to make your stay with us more enjoyable and stress free. If an event is within the undercroft level, we will make every effort to accommodate those with special needs or limitations.