If you or someone you love is in a place of despair and you need help right now, even if our office hours are closed, there are resources available who can help you in this dark hour.
Update: The National Suicide Prevention Lifeline is now: 988 Suicide and Crisis Lifeline. 988 has been designated as the new three-digit dialing code that will route callers to the National Suicide Prevention Lifeline. While some areas may be currently able to connect to the Lifeline by dialing 988, this dialing code will be available to everyone across the United States starting on July 16, 2022.
The National Suicide Prevention Lifeline is a national network of local crisis centers that provides free and confidential emotional support to people in suicidal crisis or emotional distress 24 hours a day, 7 days a week. They're committed to improving crisis services and advancing suicide prevention by empowering individuals, advancing professional best practices, and building awareness.
What happens when you call the lifeline?
First, you'll hear an automated message featuring additional options while your call is routed to your local Lifeline network crisis center.
They'll play you a little music while we connect you to a skilled, trained crisis worker.
A trained crisis worker at your local center will answer the phone.
This person will listen to you, understand how your problem is affecting you, provide support, and get you the help you need.
Lifeline Center calls are free and confidential, and available 24/7.
---
Crisis Text Line (Text CONNECT to 741741 in the United States)
Crisis Text Line is free, 24/7 support for those in crisis. Text 741741 from anywhere in the US to text with a trained Crisis Counselor. Crisis Text Line trains volunteers to support people in crisis. With over 62 million messages processed to date, we're growing quickly, but so is the need.
Crisis Text Line was born "from the rib" of DoSomething.org, the largest organization for young people and social change. Dozens of DoSomething.org members were texting in to ask for personal help and CEO Nancy Lublin came up with the idea for Crisis Text Line and quietly launched in August 2013.
Within 4 months, Crisis Text Line was being used in all 295 area codes in the US. Two years later, Crisis Text Line spun out into a separate entity and Nancy went along with it.
Complete story detailed in this New Yorker article.
---
Founded in 1998 by the creators of the Academy Award®-winning short film TREVOR, The Trevor Project is the leading national organization providing crisis intervention and suicide prevention services to lesbian, gay, bisexual, transgender, queer & questioning (LGBTQ) young people under 25.
---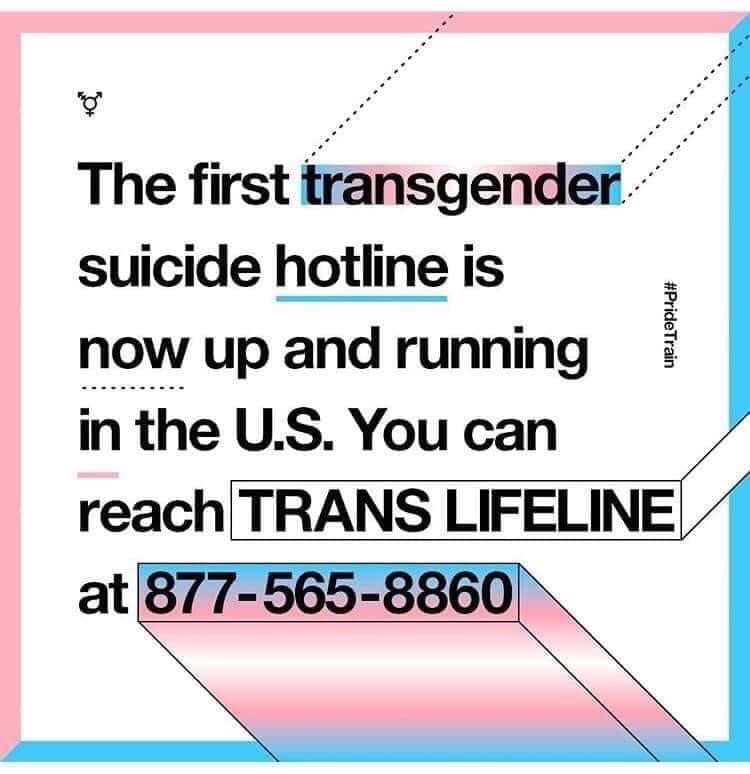 The first transgender suicide hotline is now up and running in the U.S. You can reach TRANS LIFELINE at 877-565-8860.
Trans Lifeline is a trans-led organization that connects trans people to the community, support, and resources they need to survive and thrive.
Need to talk? Call! Our peer support hotline is run by and for trans people. We're available 7am-1am PST / 9am-3am CST / 10am-4am EST. Volunteers may be available during off hours.
Need a legal name change or an updated ID that affirms your gender? We're here for you. We can help guide you through the complicated process, and we'll give you the money to pay for it.
---
Our Mission Statement at Saint Miriam is simple: To Welcome Everyone. We are an open and affirming parish community of the Old Catholic Church inviting people of every age, race, national origin, marital status, sexual orientation, gender expression, means, ability, and spiritual tradition to join together with us in the love of God and service to our neighbor. Everyone is welcome at Saint Miriam. Period.
Saint Miriam Parish is staffed weekly, but we also understand that there may be times when you have an emergency or an urgent need. During these times, you may call the main number, 215-836-9800 and dial extension 703 and follow the voice instructions. Your message will be sent to the Priest-on-call and someone will get back to you within minutes. To send us a prayer request, contact us here.
---
Need help overcoming substance abuse?
StartYourRecovery.org provides helpful information for people who are dealing with substance use issues — and their family members, friends, and co-workers, too. We know that there is no one-size-fits-all solution to the challenges faced by those who misuse alcohol, prescription or illegal drugs, or other substances, and we aim to break through the clutter to help people at any stage of recovery.
Our goal is to offer people who are dealing with substance use issues a single source of reputable, objective information about signs, symptoms, conditions, treatment options, and resources — presented in a user-friendly format and in language that's easy to understand.