"And what does the LORD require of you?
To act justly and to love mercy and to walk humbly with your God."
– Micah 6:8
---
Why We Are Different
Why Is Saint Miriam a Different Type of Church?
Our Saint and namesake is Miriam (14th century B.C.). She was the older sister of Moses thought to be the actual voice behind one of the oldest poems in the Hebrew Scriptures, The Song of Moses, celebrating the previously unimaginable event of God taking the side of the forgotten, dispossessed slaves and leading them to freedom.
In Exodus, Miriam leads the women of Israel in a dance of thanksgiving for the freedom God has given them. Miriam was a prophetess in her own right (Ex. 15:20)
Saint Miriam: A Pro-Cathedral
So…what is a pro-cathedral? In addition to the main cathedral, various dioceses also have other churches that have served or currently serve some of the roles of a cathedral. A Cathedral is a church that contains the Bishop's Chair, or "cathedra", which is symbolic of the bishop's teaching ministry. The Cathedral generally has a staff of clergy presided over by the Dean and assisted by clergy called Canons. Together with the laity, they carry out a program which includes worship, pastoral work, teaching and outreach. The Cathedral is also available for many diocesan activities and is the principal church in which the bishop presides on special occasions.
Saint Miriam Pro-Cathedral, is an exception to this definition in several ways, but the best definition, and most relevant to us at Saint Miriam, is that our pro-cathedral is a parish church that is temporarily serving as the Cathedral of a diocese. What does this have to do with us?  Well, on the Fifth Sunday of Easter, April 28th, 2013,  our Diocesan Archbishop joined us to confirm our youth and for Episcopus visitare annua, his annual parish visit. As a gift in recognition of the hard work and dedication to our mission as a community of God, he bestowed upon us a great gift, as our Pastor, Monsignor Jim, was also formally installed as the Vicar General of the Diocese of Pennsylvania and Saint Miriam was designated as a Pro-Cathedral in anticipation of it becoming a full Cathedral after Monsignor was elevated to bishop of the diocese! On June 7th, 2014, Bishop +James was consecrated and decided to remain an active pastor! So, he serves as Pastor, Dean, and Bishop! Busy, yes! But it keeps him grounded and we are grateful for his leadership!
We, the people of this parish, promise to continue the work of welcoming that is based in the finest of our Franciscan ethos and the Gospel of our Lord!
Brief History of Saint Miriam
Saint Miriam began as a dream in late 2008 in rented chapel within a Jewish Synagogue in the Roxborough Section of Philadelphia, Pennsylvania. There, as the parish community grew, they knew they needed more space and the ability to hold their own services as well as to expand their mission. After a lengthy search in prayer for new space, they discovered an abandoned building in Blue Bell, Pennsylvania and negotiated to make it their home. On faith, and after a Capital Campaign, a lengthy re-zoning process, and six months of renovations, they held their first Mass within their new church building on The Nativity of the Lord, Christmas Eve Vigil, December 24th, 2009!
In the fall of 2015, they purchased and moved to a brand-new campus located in Flourtown, Pennsylvania, just two miles from our previous location that features a parish, friary, preschool, pet memorial garden and a historic cemetery! They encourage you to come to a place that grows with excitement, literally, almost every year!
Much has changed since that fateful day back in 2008 when a small group of sojourners believed they could form a Catholic parish that was validly Catholic, inclusive, and where everyone was welcome! Now the 12+ acre campus is home to several St Francis statues, two beautiful gardens, renovated space, a Spiritual Lending Library, a vibrant preschool and a historically significant cemetery, as well as a beautiful friary, and a sanctuary that features modern amenities within a renovated space that includes stunning stained glass windows and a splendid pipe organ.
There have been many that have come for a time, gone to new places, enjoyed our hospitality, lived the dream of what we have created, died and gone to the Lord, and still remain active through today, as we grow, but the spirit that pervades this parish is one of love and hope.
Welcome to a parish that has learned the best way to grow a parish is always about hospitality and inclusiveness, and by always keeping our eye on the ball; for us, that ball is – and will always be – Jesus!
Welcome to Saint Miriam!
The Doors to Our Parish: A Symbol of Our Welcome!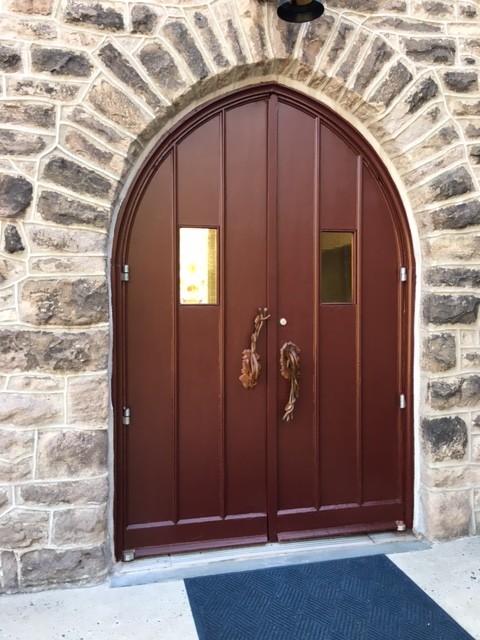 Saint Miriam began only 8 years ago in a rented space in a synagogue in Philadelphia and have grown to a campus that includes a beautiful parish, a caring community of Franciscans, a wonderful school, and an historic cemetery. Many people ask us how and the answer is always the same: we know how to love. Yes, there are rules, but then there are people!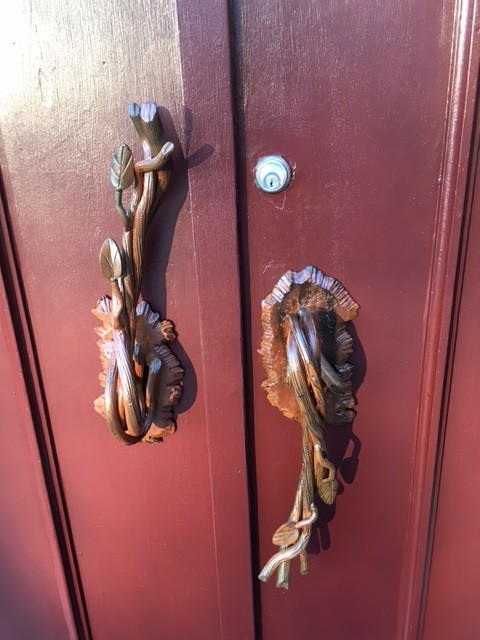 You see, that really is the essence of our hope – a hope that we bring through our radical welcome every week at Saint Miriam. It is also why those doors are so important to us and why they took so long to complete! Our pastor asked Ed Worthington to design his architectural work to tie in the created door pulls to our altar and other liturgical furniture in the Sanctuary that he had previously completed. Why? Because what we do in the Sanctuary is meaningless if we neglect the robust welcome at our front doors. And, what we do at the front doors, is only completed when we welcome others – all the others who come and wish to to find Jesus – to receive the Body and Blood of Christ at our altar. It is amazingly simply and drastically complex; and it is needed. It is the heart of our parish!
Who is Miriam?
The first woman described that way in scripture. According to tradition, she prophesied before Moses' birth that her parents would give birth to the one who would bring about their people's redemption. The story has Miriam waiting among the bulrushes watching over Moses while his ark was in the river (Ex. 2:4). When the Pharaoh's daughter drew Moses out of the water, Miriam arranged for their mother, Yocheved, to nurse Moses and raise him until he was weaned (Ex. 2:7-9).
Miriam also led the women of Israel in a song and dance of celebration after the Pharaoh's men were drowned in the sea (Ex. 15:20-21). She is said to be the ancestress of other creative geniuses in Israel's history including Bezalel, the architect of the mishkan (the portable sanctuary used in the desert) (Ex. 31:1-3) and King David.
According to tradition, because of Miriam's righteousness, a well followed the people through the desert throughout their wanderings, and that well remained with them until the day of Miriam's death.
Like her brothers, and all of us, Miriam was not perfect. She led her brother Aaron to speak against Moses over a matter involving a Cushite woman he had married (Zipporah, or possibly a second wife) (Num. 12:1). They also objected to his leadership, noting that he had no monopoly on Divine Communication (Num 12:2). For this, Miriam was punished with tzaaras, an affliction generally translated as leprosy (Num. 12:10). However, Aaron pled on her behalf and she was cured (Num. 12:11). Miriam died in the desert before the people reached the Promised Land (Num. 20:1).
If it were not for Miriam, Moses would not have been saved from Pharaoh and all of salvific history would have been changed. Miriam died  on the 10th of Nissan in the year 2487 (the first month on Jewish calendar (according to the Torah), coincides with March-April on the civil calendar. The Torah calls it chodesh ha-aviv—the month of spring, as it marks the beginning of the spring months.) a year to the day before the Jewish people crossed the Jordan into the Promised Land, under the leadership of Joshua, at the age of 126 (or 127) in Kadesh, and she was buried there.  True to her symbolism with water, after her death, God opened a spring of abundant water for the people, called Meribah. Unfortunately, this happened after the Israelites contended with God, also resulted in Moses and Aaron committing sin that prevented them from entering Canaan. We, therefore, celebrate her 'feast day' on nearest the Second Sunday of April every year, whenever possible.
Saint Miriam is dedicated to these same principles of caring for the poor and disenfranchised and loving EVERYONE as Christ loved us. We celebrate the unimaginable love of God in all of life.
We worship with history in mind, but not at the expense of having a great time. We use all types of music and instruments. Visit us today just as you are and discover a place where you can truly be yourself.
"The key to changing the world and pursuing justice is to allow the God of peace to disarm our hearts, make us instruments of peace, and to lead us together on the road of peace."
– Fr. John Dear
---
"Utique facere judicium, et Amor videor, et sollicitum ambulare cum Deo tuo"
+
Symbolism and Achievement…
The design of the coat of arms of The Very Reverend James St. George, Bishop of our Diocese, was done so with his direct request to achieve numerous spiritual and theological symbolisms important to him. The design was arrived at in consultation with The Very Reverend Gregory Godsey, Bishop of the Diocese of the Southeast, who has years of service to the Church and is a source of great knowledge on heraldic design.
When it was introduced in Western Europe in the 12th Century, armory was used first by Monarchs and the greater nobles. Over time it was adopted by the lesser nobility, knightage, and gentry; and then institutions, including religious establishments. Sees, cathedrals, abbeys, religious orders and prelates adopted arms for use on seals. The practice evolved for archbishops and bishops to use on seals the arms of their see ensigned with a "precious mitre" (mitra preciosa), a mitre adorned with jewels; and for abbots to use the arms of their abbey surmounted by a "simple mitre," with no jewels. Brass rubbings of medieval bishops' effigies appear to indicate that the mitres were indeed studded with precious stones, now long disappeared. Because they are "married" to their sees, prelates may also impale their arms with those of their dioceses.
Bishop St. George's Crest is done in Quarterly Gules, Or, and Azure countercharged per pale and per Cross or Quarterly, where the field in the first and fourth quarters a Cross of St. George is displayed; Or, upon the bishop's staff; in the second quarter is a heart for charity and sincerity; in the third quarter the motto, founded upon Sacred Scripture in Paul's Letter to the People at Corinth (1 Cor 16:14). The border is emblazoned with the cymbals of Miriam, sister to Moses, and Patron Saint of our Cathedral Parish, the first voice of the poor and marginalized and a precursor to Mary's Magnificat. A bishop's galero is Vert, or Green, with the color of his office within of Gules (Red) and bears six tassels on each side; the color originated in Spain where formerly a green hat was actually worn by bishops. The number of tassels denotes the rank of the clergy.
The Motto
In heraldry, a motto has been a personal philosophy of life as well as a family dictum, and sometimes even a cry for battle. But in Church heraldry, a cleric's personal motto has always been intended to represent his personal spirituality and theologically based philosophy of life and is most frequently grounded in Sacred Scripture or in a prominent prayer or litany. For Bishop St. George, this symbolism is found in four simple yet powerful words: Utique facere judicium, et Amor videor, et sollicitum ambulare cum Deo tuo, which translates alternately as, Act Justly, Love Tenderly, and Walk Humbly with Your God, taken from Micah 6:8. With this motto as his guide, Bishop St. George undertakes his episcopal ministry in The Diocese of Saint Bernard of Clairvaux.
---
The Seal of The Diocese of Saint Bernard of Clairvaux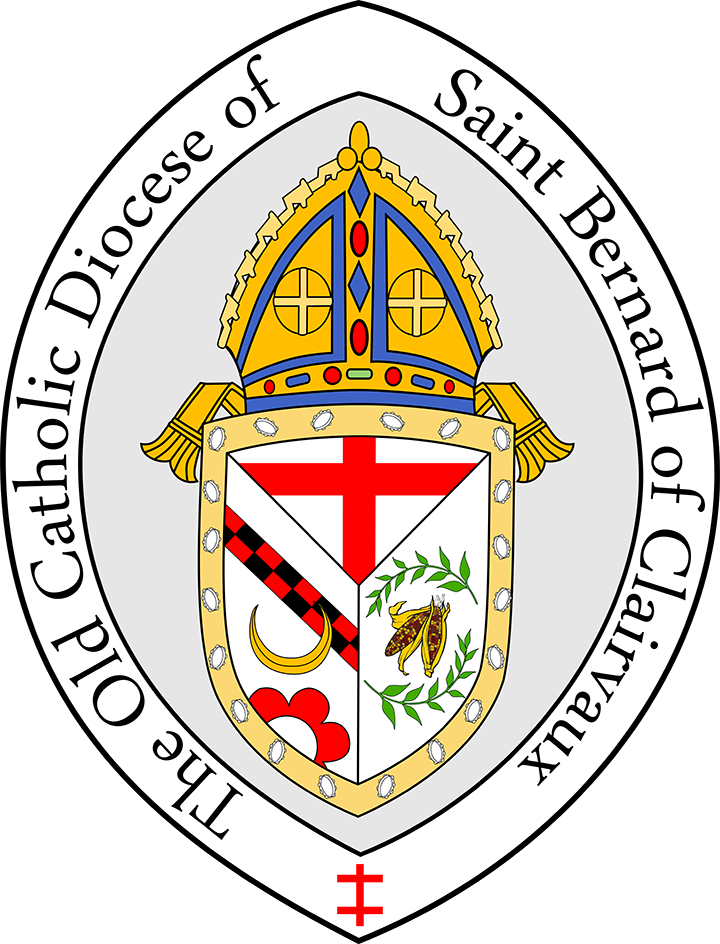 The official seal for our diocese bears symbols marked by linear simplicity and include the Cross of St. George, to represent our Bishop. The Episcopal Mitre is proper in design with one horizontal "stripe" and the lappets are shorter in length and placed properly over the top edge of the shield. The gold roundels along the border represent tambourines, symbols of Miriam, the sister of Moses and the name of our Cathedral Parish. Blue and yellow not only cover the colors of the flags of the three states initially contained within our Diocese – the gold/yellow of New Jersey, and the blue of both New York and Pennsylvania, but blue also represents a bishop's dignity. A reference to their spirit of seeking justice that is inherent within the framework of our diocese. The lower, left portion of the primary shield contains a segment of the Coat of Arms of St. Bernard of Clairvaux, the founder and abbot of the Abbey of Clairvaux (see image at right). St. Bernard (1091-1153) was centrally responsible for the early expansion of the Cistercian Order throughout Europe and was considered a reformer of the Church. Tens of thousands heard his powerful preaching, and he personally attracted and helped many hundreds of men to follow a call to monastic life. Canonized in 1174 by Pope Alexander VIII and made doctor of the church by Pope Pius VIII in 1826, St. Bernard stands as one of the giants of the Christian spiritual and theological heritage, and his writings represent a peak in monastic theology and spirituality. His feast day is August 20th and is honored in our Diocese on the Sunday closest to the actual date. The lower, right segment of the crest includes a portion of coat of arms of Pennsylvania, where the Diocesan Cathedral and Bishop are located. It is adorned with two symbols of Pennsylvania's strengths: An olive branch and cornstalk cross limbs — symbols of peace and prosperity. A nod, too, to the agricultural tradition of New Jersey.
It is tradition that the Bishop's personal crest picks up some part of the Diocesan Crest. We honor this tradition with the presence of the St. George flag, on both seals, as well as the rounds of Miriam being present in both designs. Finally, the motto for the Diocese is "Deus meus et Omnia" and translated into English it reads, "My God and My All", a nod to St. Francis and our Bishop's Franciscan heritage as a Friar.
---
[easy_media_download url="https://www.mysaintmiriam.org/PDFs/Succession_of_James_Michael_St._George.pdf" text="Download the Line of Apostolic Succession" width="600″ color="blue_four" force_dl="1″]
---

The Bishop's Fund was established for, and is dedicated to, providing the financial support and tools for Ministries, Education, and Formation throughout the Diocese and to help spread the Gospel by reaching out to those in need with assistance and scholarship programs. The Fund uses 100% of its funds for its outreach and no administrative costs or salaries are taken. Parishes and other agencies will be able to apply for grants from the fund, which will awarded by the Bishop after consultation with the board of directors. You may make any size gift to the Bishop's Fund. Your donations are deductible to the fullest extent allowed by law.
To show your support through the Bishop Fund, please click here.