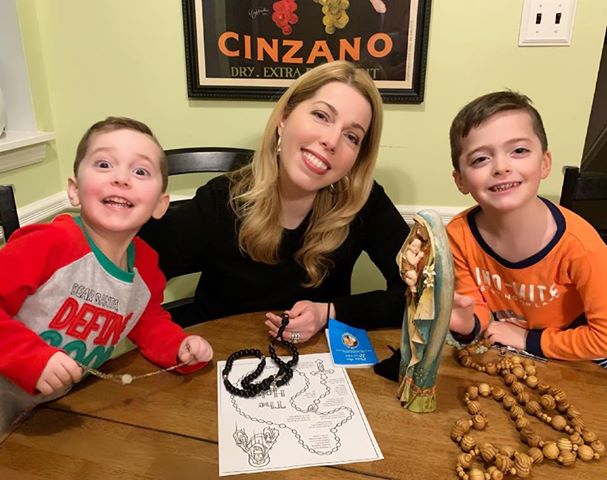 At Saint Miriam, we honor our blessed mother every week with a Rosary devotional on Sunday mornings before our Family Mass at 8:30 AM. We also have two wonderfully unique ways for families to help their children learn a devotional to Mary and how to pray for the intercession of our blessed mother!
First, Saint Miriam offers every family the opportunity to "Host" our Blessed Mother and pray to her as a family every week, preferably praying together every week! Just sign out the "Mary on the Go" carrying case every Sunday and return when you're ready!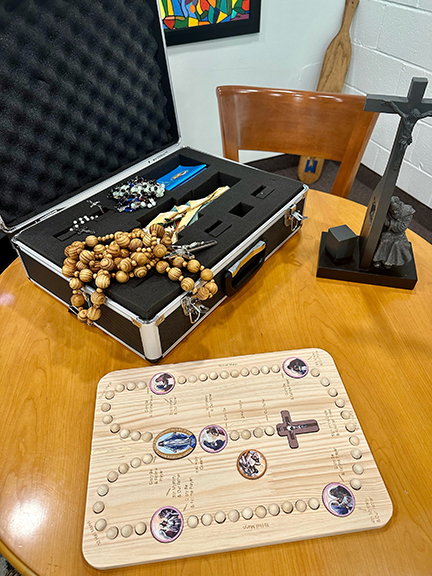 The kit comes with a beautiful Blessed Mother Statue, Rosary beads for a family of up to 7, a glow-in-the-dark Rosary to pray at night, 7 booklets on how to pray the Rosary, as well as coloring images to teach your children! After you pray the Rosary, simply return the entire kit the following Sunday and another family will have the very same adoration opportunity!
Secondly, we also offer an interactive Rosary board with beads and icons and cross to work through with your children in a fun and educational way!
Two beautiful ways to pray together!
---