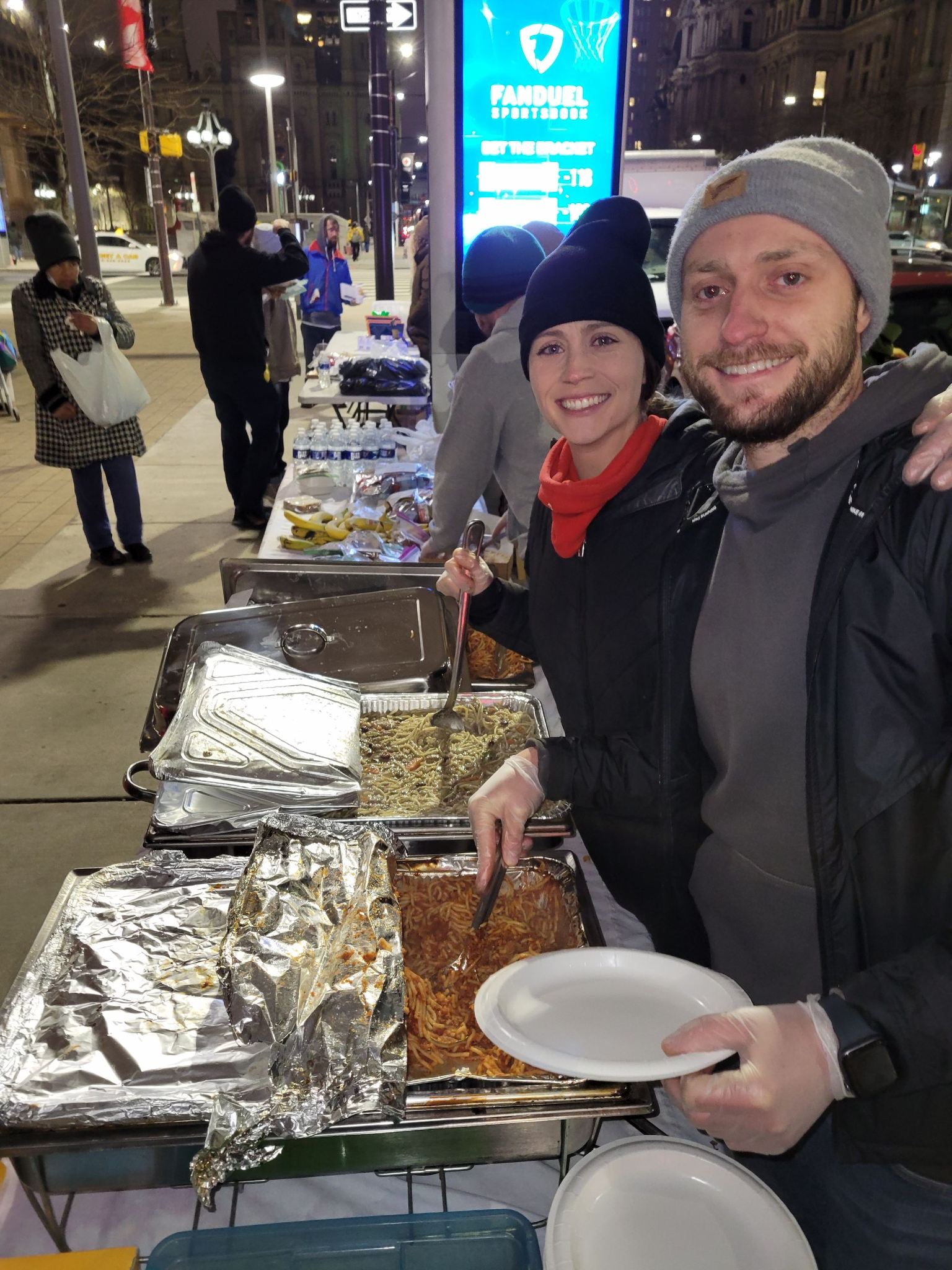 At Saint Miriam, we're proud of the partnerships we've made with Bombas, Philabundance, Small Things Philly, The Everywhere Project. The Joy of Socks and others! (See the full list below.)
The storage, production, assembly and distribution of warm meals made in our own kitchen are far more important than any single person; it's about the over 1 million guests who would NOT have gotten a warm meal, a pair of new socks, a nutrition or hygiene care bag – all with their dignity intact.
Our Partners:
The Everywhere Project
Small Things Philly
The Gibson Family Foundation
Philly Unknown
Bombas Socks
Joy of Socks
Angies Vietnamese Cuisine
Hellen Haggie and London Sunday Love Project
Prevention Point Philadelphia
Link Family
Sharing Excess
Albertsons Co. Foundation
Food Connect
Starbucks
Wawa
Savage Sisters
The Red Cross of SE PA
The Philadelphia Department of Health
Unity Taco
The Last Stop
Aldo & Manny Pizza
Interfaith Food Cupboard
Penns Ride +
Family Promise Montco PA
And many more individuals and donors!
Our Human First Outreach Initiative, since the pandemic began in March 2020 has officially reached over 709,465 meals to those experiencing homelessness and food insecurity!
Meals:
368,125 meal servings in 2021-2022
709,465 meals served since the pandemic
75,000 Human First nutrition bags
150,000 hot meals
8.25 tons of fruit and produce
860,000 bottles of water and juice
1.65 million bottles of water since the pandemic
50,000+ cans of soda
Clothing:
26.5 tons of clothing
2,400 hats
3000+ pairs of gloves
3,963 blankets
6,000+ socks
During the pandemic, while so many other non-profits closed in fear, lack of volunteers, or to the lack of funding, Saint Miriam stepped up and literally self-funded many times to bring people what they needed – and to exemplify what being treated as "Human First" really means!
Not Just for Us!
Human First Outreach at Saint Miriam also supplied 16 non-profits that work on the streets with:
17,000 bottles of hand sanitizer
18,000 bottles of surface sanitizer
2,400 tubs of sanitizer wipes
(The Everywhere Project, our partner, does group training for strips and Narcan at Love Park and our Love Lot where we also offer individual training.)
Harm Reduction:
1,200+ doses of Naloxone distributed
1,200+ fentanyl test strips
612,00+ disposable surgical masks
17,000+ bottles of hand sanitizer
Our Outreach Director, Tom Frey deserves a huge round of thanks! If not for his leadership, along with Monsignor Jim, for his unwavering support and financial access, we would never have been able to serve those in need. 
The mission continues!
Without individual donors like you we would not make it! Please give generously and help us in our next exciting leg of our journey!