As I watched the donkey watch us last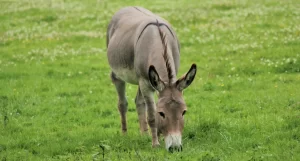 year on Palm Sunday, I was reminded of simpler things and things less fancy. I noted the shadow of the cross on his back. It was in his expression that I knew this year needed to be different. This Holy Week was meant to be different. This Holy Week will not be about numbers at each mass in attendance, or who is there and who is not, or even about the 'whos', but rather it will be about the Who; the One we came to feel, to see, to pray for, pray to.
Yes, another Holy Week is almost upon us, but this year Holy Week will be intentionally different. There will not be the glory of Easter weeks of the past. There will be no grand focus on regalia and gold lame fabrics or fringe. We will forgo my fancy Bishop's hats and regalia and I even placed the Chrism Mass on hold, too. We will leave behind us the pomp and circumstance, the fanfare, the high decorations and fancy flowers. This year will be intentionally different; intentionally focused on that which the donkey saw: us and the One we claim to adore. This year we won't worry as much about lace or gold trim or even if our priests have matching vestments. We will not look to anything other than Him; Jesus. We lost so many Easters almost fully due to the pandemic and our community has been hurt this past year, too, as we all recover. So, this year will be intentionally different, and it has been.
Instead of the focus on things earthy that fail, we will look to the things that are eternal. We will – as we have this entire season – dive more deeply within ourselves to find the true meaning of Holy Week. We will use the church this year as a mere backdrop to allow the things that have always been to shine through from within. We will journey through the Holy Triduum, not sprint to get it over with. And we will be mindful as we do this that we are still within a global pandemic despite our willingness to take more risks. We will remember the dead, lost to this disease and we will remember the Ukrainians, who would do anything to be able to sit and worship, safely.
Therefore, if I may as a pastor to you and a priest of the parish, give some guidance that may help us bring the depth, richness and the beauty of these days to life.
On Holy Thursday at 6:30pm let us focus on the symbolic foot washing, the Mandatum. Together, we will gaze intently at a simple basin, a pitcher of unassuming water, and a banal towel sat before a man, woman, and a child. We will honor the sampling of who we are – the gay, straight, white, transgender, divorced, married – and God will be there none-the-less in our simplicity and intent. There will be limited seating available in our side Chapel of Reservation after we process to Pange Lingua. You may sit and pray as the assembly departs in silence into the darkness and reflect and pray. These measures will allow us to remain safe and to come back again the next afternoon.
Then, upon the shadows of the afternoon sun of Good Friday at 3:00pm, we will center our attention on a simple, bright red cloth, dripping from the Altar Crucifix to the slender surface of the main Altar's embedded relic stone, down her frail edge to the ground, where the blood will puddle for our sin; then, down the center aisle the blood shall flow as we listen to a dramatic reading and watch images of our Lord's journey to the hardwood of the Cross, for us, the wicked and undeserving. At The Veneration we will kiss, or deeply bow or kneel. We will then depart, as we did the evening before, in silence and darkness to pray that we will return.
Holy Saturday evening at 8:00pm sharp will find us gathered outdoors for The Great Vigil of Easter; too, Holy Saturday will not be as great as in year's past, but perhaps even more moving and saving and yes, just as splendid. We will sit in darkness after we bless the New Fire. We will dwell on our Salvific History surrounded by darkness pierced by the single light of the Paschal Candle, "Sollemnis Pasqua", and wonder how a God could save the likes of you and me. We will raise the lights at The Gloria and then march triumphantly as a people into the New Testament and Gospel proclaiming what we knew would come: Jesus lives! We will renew our Baptismal Covenant but not baptize or confirm, not this year. This year we will remain dedicated to staying on point to keep us safe and honor life by remaining vigilant.
Easter day will find us gathered at 7:30am and 9:30am and will bellow joyfully the Alleluias lost to Lent and perhaps emerge aa new creations, but first there is work to be done. It is Holy Week. We need to sit and attend and pray for ourselves and the world around us.
St. Francis once said, "Great and glorious God, and Thou Lord Jesus, I pray you shed abroad your light in the darkness of my mind. Be found of me, Lord, so that in all things I may act only in accordance with Thy holy will."
May it be so as we gather simply into the Presence of God this Holy Week. This year will be intentionally different.
God's peace and coming to you and yours. See you beginning Palm Sunday and then we gather our souls as one into a gracious Holy Week at Saint Miriam.
Pray for me as I do you,
+Jim